John Hooper.

An Answer unto my Lord of Winchester's Book.

1547. A. D.

"Epiphanius, that great cleric, proves my opinion with strong arguments: If it had been commanded that women should sacrifice to God, or perform any thing ritually in the Church, it especially behoved Mary herself, under the new dispensation, to offer sacrifices, &c ;  but it was not seen fit.  Read the chapter."

lib. 3. Contra Haereses, Tom 2. c. 79.

[ latin. Si mulieribus praeceptum esset sacrificare Deo, aut regulariter quicquam agere in ecclesia, oportebat magis ipsam Mariam sacrificium perficere in novo testamento, etc; at non placuit.]

"The ministry of Christ's church chiefly dependeth in the preaching of the gospel and the ministration of the sacraments; and as the preaching of the word is not the office of a woman, no more is the ministration of the sacraments."

---
Anthony Scoloker.
A bryefe summe of the Bible.
1549. A. D.
"Let your wives keep silence with all subjection. Suffer not a woman to teach nor to have authority over the man, but for to be in silence. For Adam was first formed, and then Eve. Adam also was not deceived, but the woman was deceived, and hath brought in the transgression. Notwithstanding through bearing of children she shall be saved, if she continue in faith, and in love and in sanctifying with discretion."
"Let your wives keep silence in the congregation, for it shall not be permitted unto them to speak, but to be under obedience as the law saith: But if they will learn anything let them ask their husbands at home. For it becometh not women to speak in the congregation."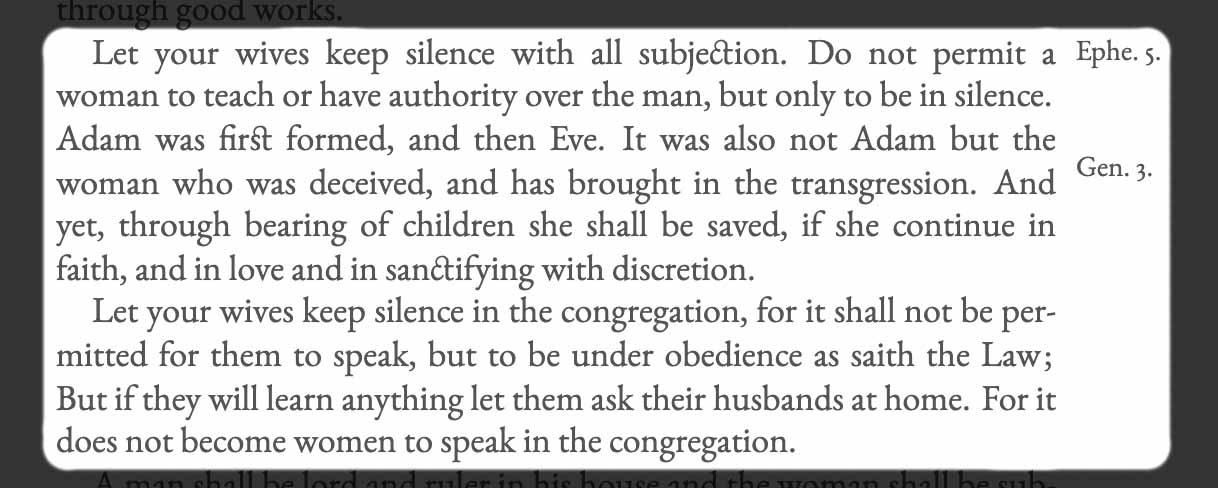 ---
Alexander Nowell.
A reproof of  ' A Proof '  by Thomas Dorman.
1565. A. D.
"we in all our Sermons and writings of such matters, do make a most clear and evident difference between the functions and offices of princes, civil magistrates, and Priests Ecclesiastical ministers: And neither did we ever teach that [Queen Elizabeth] ought, neither did [she] ever desire, to execute the offices Ecclesiastical of ministering the Sacraments, preaching, excommunicating, absolving, and such like."
"… she can not, may not, nor will not execute ecclesiastical functions."

---
John Whitgift.
"Three Articles" touching Preachers and Other Orders for the Church.
[Official document]
October, 1583. A. D.
Article 5: "That none be permitted to preach, or interpret the Scriptures, unless he be a priest, or deacon at the least"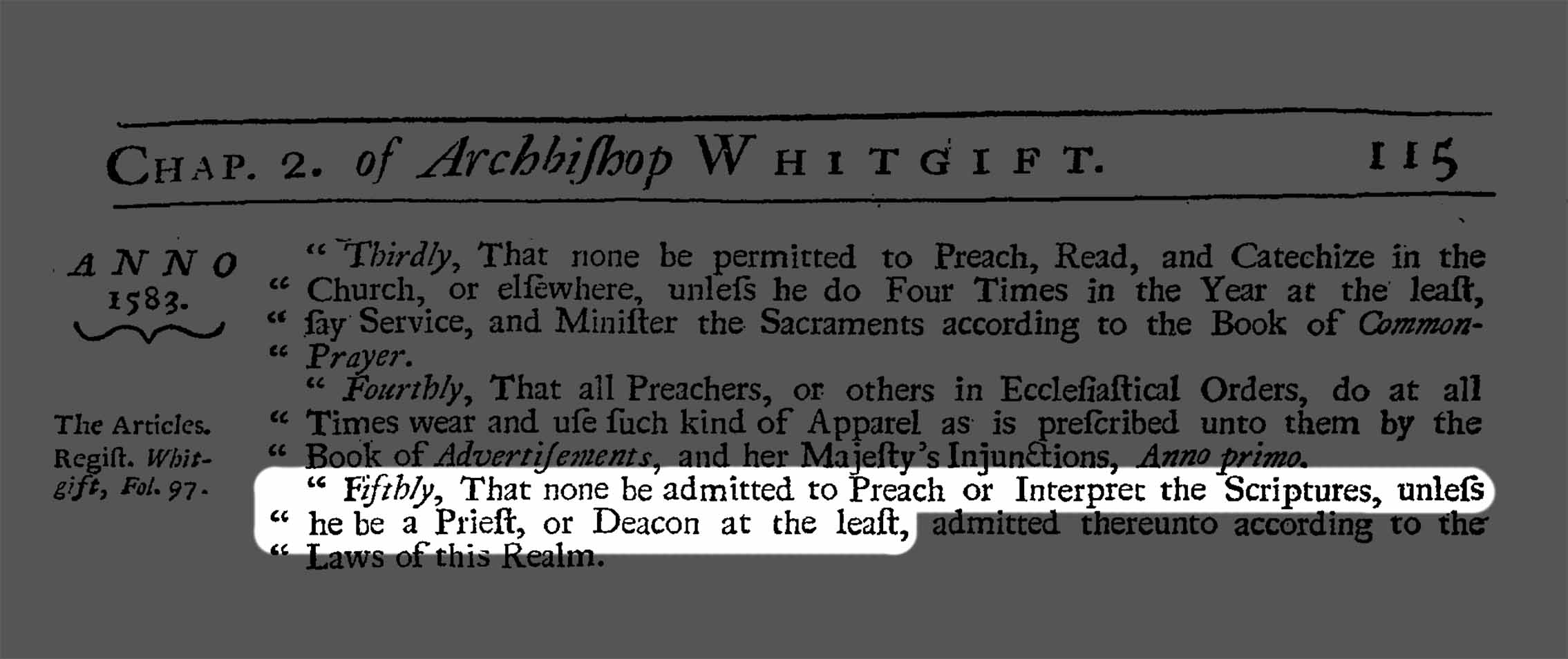 ---
Thomas Bilson.
The True Difference Between Christian Subjection and Unchristian Rebellion.
1585. A. D.
"That women may not undertake this charge to feed Christ's sheep, it was needless to cite Chrysostom.   S. Paul said it before in other words, & we be far from any such folly."

---
Hadrian Saravia.
On the Various Degrees of the Ministers of the Gospel.
1590. A. D.
"Although the Apostle forbid a woman to speak in the congregation, yet if she be learned, she may write, and privately instruct her family."
(latin) "Tametsi in ecclesia apostolus mulierem vetet loqui ;  potest tamen si docta sit scribere, & priuatim domesticos docere."


-Source: Hadrian Saravia, De Diversis Ministrorum Evangelii Gradibus / Of the diuerse degrees of the Ministers of the Gospell (1590). Original (english): page; Original (latin): page. Cover page.
-Online: De Diversis Ministrorum Gradibus (1590). Google Books.
---
Thomas Rogers.
The Catholike doctrine of the Church of England.
1607. A. D.
"Though it be in the power of them which have authority in the Church, to appoint Ministers for God's people: yet may they admit neither [whomever they wish, nor in any manner they wish]"
"This made the Apostles and Elders in the primitive Church [to] describe who were to be chosen, and called. For they are to be Men, not Boys nor women, Men of good behaviour, not incontinent, not given to wine, not strikers, not covetous…"
"In error they remain, who are of opinion, that … women may be Deacons, Elders, and Bishops: the former, the [heretic] Acephalians; the latter, the Pepuzians did maintain."
---
John Tombes.
Theodulia or, a Just Defence of Hearing the Sermons and other Teaching of the present Ministers of England.
1667. A. D.
"Women are excluded from any Ordinary Ministery of the Word or Sacraments in the Church by the Texts alledged, 1 Cor. 14.34.,  1 Tim. 2.12.,  and from baptizing, Mat. 28.18, 19, 20.,  Ephes. 4.11."
"[Since] we find that Philip the Evangelist had four daughters that did prophesie, Acts 29.1., mention is made of the woman praying or prophesying, 1 Cor. 11.5., we cannot exclude them from extraordinary Ministry, when God gives such a gift ;  nor, [since] Priscilla instructed Apollos, Acts 18.26. can we exclude them from private teaching of the most able, if they be fitted thereto."

---
Patrick Smith.
A Preservative Against Quakerism.
1732. A. D.
Quest. May not Women, as well as Men, be allowed to preach in the Assemblies of God's People, if the Spirit move them to it?
Ans. No. Because it is not to be supposed, that the Spirit should move them to it, since St. Paul who was inspired by the Spirit, says expressly, I suffer not a Woman to teach, that is, publickly in the Church, nor to usurp Authority over the Man ;  this being an Act of Power and Authority, and the Woman's Part being Subjection and Obedience, 1 Tim. 22. 11, 12. And let Women, says he, keep silence in the Churches ;  for it is not permitted to them to speak, nay not so much as to ask Questions there, if they would learn any thing ;  for it is a shame, or a thing indecent, for Women to speak in the Church, 1 Cor. xiv. 34.
Quest. Was it not foretold by Joel, that under the Gospel, Daughters and Handmaids should prophesy, Joel ii. 28 ?  And do we not read of the four Daughters of Philip who prophesied, Acts xxi. 9 ?  and of Women's prophesying in the Church of Corinth, 1 Cor. xi. 5 ?
Ans. What Joel foretells of Daughters and Handmaids prophesying, had its accomplishment in the Times of the Apostles, to which it did refer, and in which we read of the four Daughters of Philip who prophesied ;  which, since St. Paul forbids Women to speak in the Church, must be understood of their exercising their extraordinary prophetical Gifts, only in a private way ;  or of their foreknowing or foretelling things to come.  And by a Woman's praying or prophesying in the Church of Corinth, mentioned by St. Paul, when he is giving Rules for the decent Behaviour of private Christians in the Church, with their Heads uncovered, is meant only, their joining as private Members of the Church, in hearing a Prophet pray or prophesy ;  as by what he says, of every Man's praying or prophesying with his Head uncovered, in the preceding Verse, is to be understood of every Man of the Assembly, of the Hearers as well as the Preachers ;  and as Solomon and all the People, are said to have sacrificed, when it was Solomon only that offered the Sacrifice, and the People were only present and joined therein, 1 Kings viii. 62.  2 Chron. vii. 4.  Or it may be meant, of their praising God, with inspired, or other Psalms, which is fitly joined with Prayer, as the Word is used in other places, 1 Chron. xxv. 1.  For to prophesy, signifies either, to foretell things to come, or to declare the Will of God, or expound the Scripture by Revelation, or to praise God with Hymns or Psalms.  And therefore they that did any of these, were said to Prophesy.
And supposing there were Women Prophetesses among the Carinthians then, that did really teach in the Church, by immediate Inspiration ;  and that St. Paul's not suffering Women to speak in the Church, were to be understood, with this exception, unless they have a special Command from God, and he immediately inspired ;  yet such extraordinary miraculous Gifts being now ceased, and neither bestowed on Men nor Women, it does not therefore follow, that because there were Women Prophetesses in the Apostles Times, there should be any such now ;  and far less, that Women now should be allowed to exercise the ordinary Office of the Ministry in Preaching in the Assemblies of God's People, which they were not allowed to do then ;  and which none then did, without being ordained to it, with Prayer and Imposition of Hands, which we never read any Women were.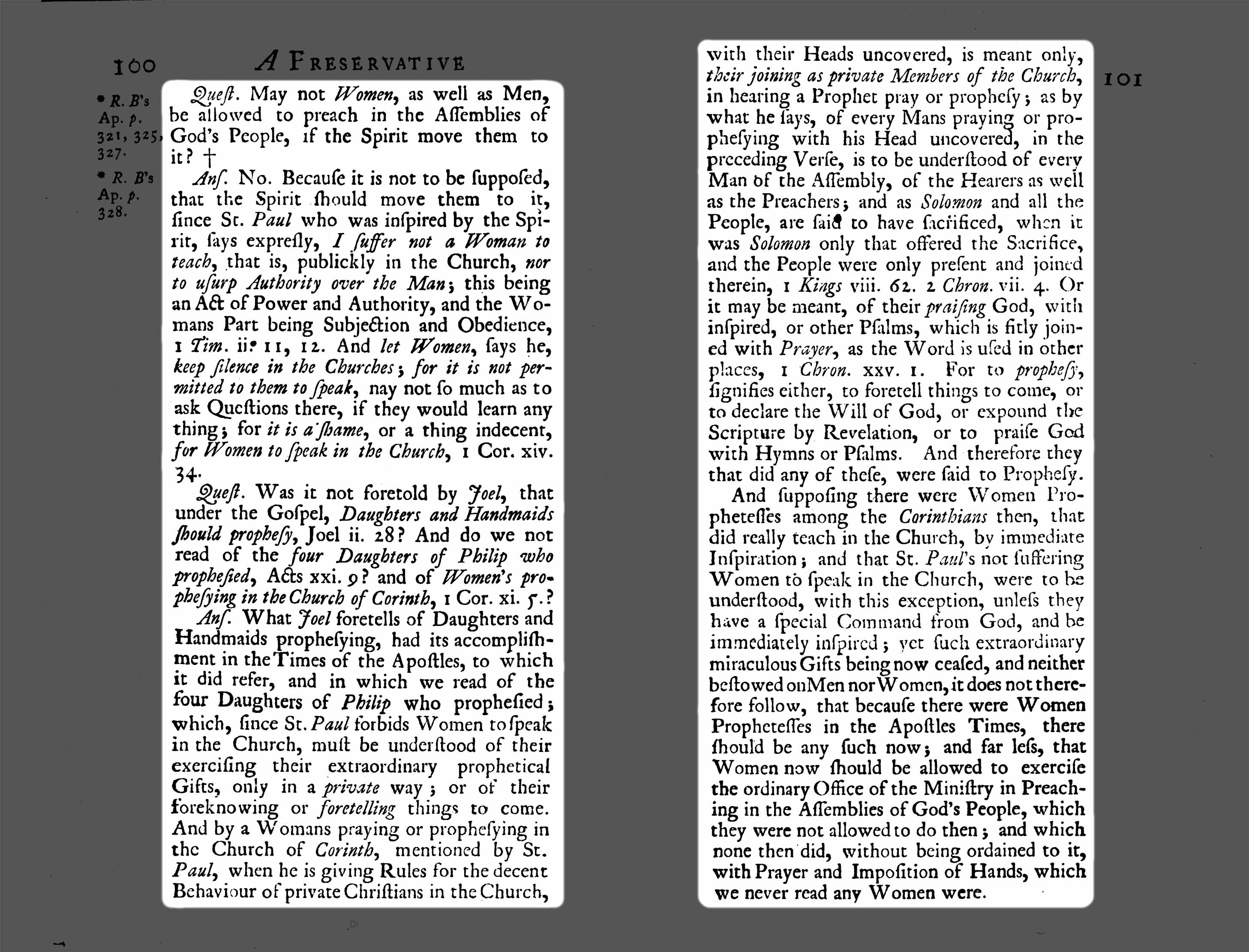 ---
Edmund Gibson.
A Letter … occasioned by disputing with a Quaker.
1741. A. D.
[W]hence derive you the Authority you give Women to appear in the Work of the Ministry ?  Surely, you will not plead Scripture here ;  it being earnestly prohibited by the Apostle on some of that Sex offering to undertake that Office :   " Let the Women learn in with all Subjection :  But I suffer not Women to , nor to usurp Authority over the Man, but to be in  ; "  and after these Texts, the Apostle shews, from the Nature of her Creation and Fall, the Unfitness of a Woman's pretending to direct a Man, whom Nature and Providence have placed over her, to protect her Person, and inform her Understanding.  How a Superiority can be maintained over a Person that we acknowledge our Instructor, I can not conceive ;  Teaching being the greatest Authority that can be assumed, and most exalted Character can be possessed, and therefore always made the Business of Men, under the Old as well as the New Law.
My Friend replied :  Stress you may put on these Words of the Apostle, I see no Reason for understanding them as spoke of publick Preaching, since in the Words immediately preceding, he was directing the Dress of Women to be plain, and in those following he promises their Preservation in Child-bearing ;  neither of which bear much Relation to the Office of a Minister, and are sufficient Proofs that the Silence here meant was a Silence to the Instruction of the Husband at Home, where Subjection is necessary, to the Preservation of Peace and Economy ;  and that the Apostle did mean no more, is obvious from several other parts of his Epistles.
I answered :  these Words be really designed as you interpret them ;  yet will the Preaching of Women remain a flat Contradiction to one of the warmest Declarations this Apostle ever made, and which cannot, with the least Shadow of Reason, be understood in any other Sense than that of an express Prohibition of Women's Preaching or Praying in Publick Assemblies :  I mean Part of St. Paul's Epistle to the Corinthians ;  where his Subject being particularly to regulate the Religious Meetings of the Believers, to reform the Abuses that had already crept in among them, and to establish a wholesome Discipline in that Church, he says, immediately after observing that is not the Author of Confusion, Let your Women keep in the , for it is not permitted unto them to  ;  and, after shewing the Agreement of this Precept with the Law, and referring Women's Speech to their Homes, he adds, For it is a for to in the .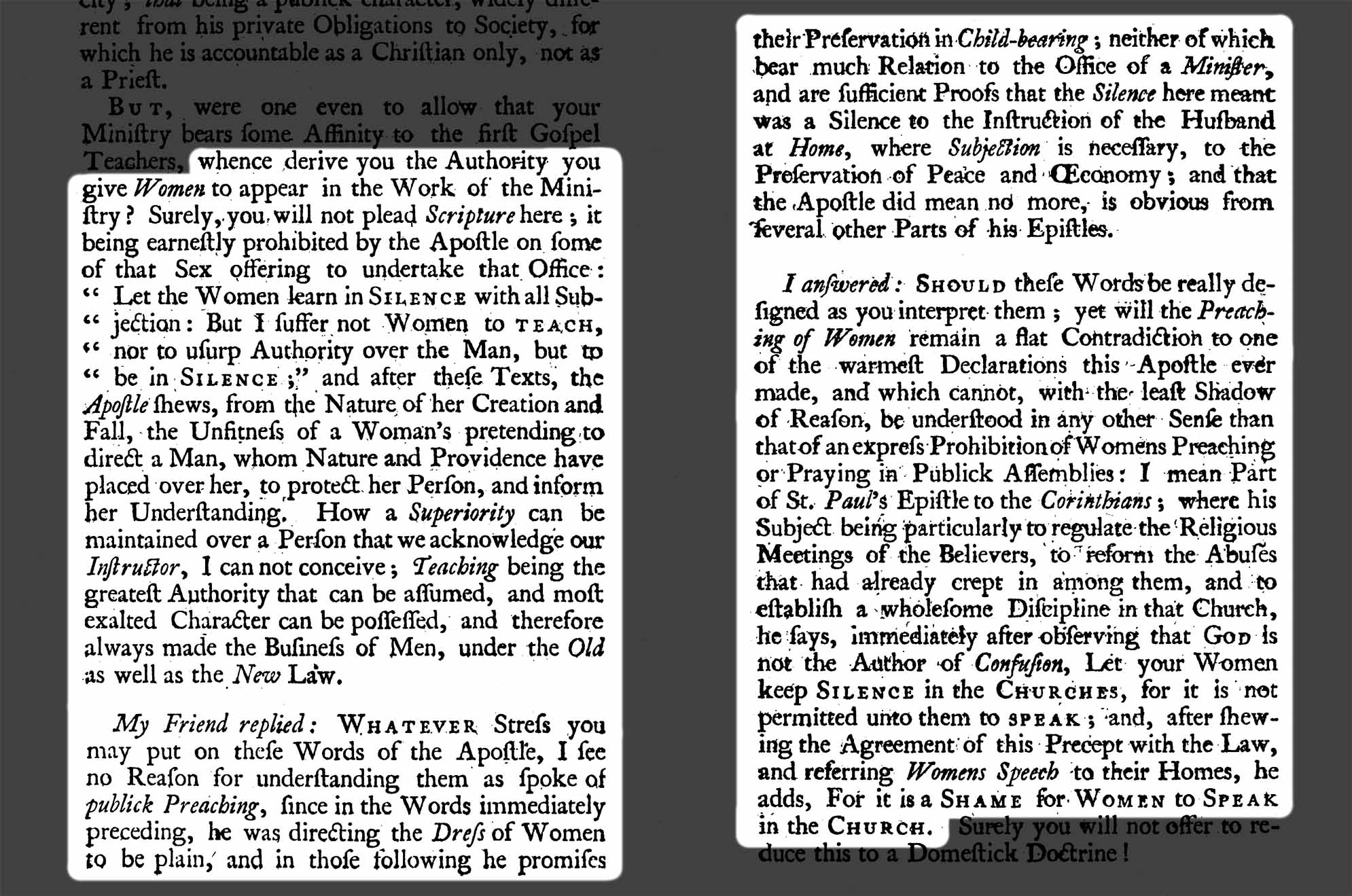 ---
A Letter to a person lately joined with the people call'd Quakers.
1748. A. D.
" We judge it no Ways unlawful, for a Woman to preach in the Assemblies of God's People. "
In this there is a manifest Difference [between Quakerism and Christianity].  For the Apostle Paul saith expressly, Let your Women keep Silence in the Churches :  for it is not permitted unto them to Speak—-And if they will learn any Thing, let them ask their Husbands at home ;  for it is a shame for Women to speak in the Church, 1 Cor. . 34, 35.
Robert Barclay indeed says, " Paul here only reproves the inconsiderate and talkative Women. "
But the Text says no such Thing.  It evidently speaks of Women in general.
Again, the Apostle Paul saith to Timothy, Let your Women learn Silence with all Subjection.  For I suffer not a Woman to teach, nor to usurp Authority over the Man, (which Public Teaching necessarily implies) but to be in Silence, 1 Tim. ii. 11, 12.
To this Robert Barclay makes only that harmless Reply ;  " We think this is not any Ways repugnant to this Doctrine. "  Not repugnant to this,  " I do suffer a Woman to teach ! "  Then I know not what is.
"But a Woman labour'd with Paul in the Work of the Gospel."  Yea !  but not in the way he had himself expressly forbidden.
"But Joel foretold, your Sons and your Daughters shall prophesy.  And Philip had four Daughters which Prophesied. And the Apostle himself directs Women to Prophesy ;  only with their Heads covered."
Very Good.  But how do you prove that prophesying in any of these Places means Preaching ?